Visit to FIGU - May 2010
From Future Of Mankind
Visit to FIGU Switzerland 17th to 24th May 2010
Monday, 24 May 2010 23:37 Stephen Moore
---
Introduction
The following is a brief account of some events which I experienced during my visit to FIGU Semjase Silver Star Center.
Many events happened and many thoughts and feeling arose during my time there. I learnt and was able to help other learn.
It is almost impossible to write down all that happened there. (As there is so much that happened it is impossible for me to write everything down here.)
The Journey
As planned months before hand my journey to Switzerland was going to be a long one. Living in southern England I had a flight booked from London to Luxembourg where I would meet two FIGU Passive members and the wife of one of them. I would then stay in Luxembourg over night and drive to Switzerland the following day, 18th May. However this was not to be. My flight from London to Luxembourg was cancelled due to volcanic ash from the Iceland Volcano Eyjafjallajökull. After many attempts to contact the airline company I finally got through to them and was able to rebook a flight for the next morning. Feeling relieved that an opportunity had once again opened for me I waited till the next morning. Travelling to London in the morning went pretty well. Making my way through some traffic in London and a minor error missing a turn off on the M25, I arrived at the airport on time for my flight. Checked in ok and then joined the long queue to get my baggage checked in. Finally at the baggage counter I was told my flight had just left. Gutted!! I thought at that moment I would have no chance to visit Switzerland this year. I contacted the persons I am supposed to meet and travel and told them to leave without me. They said they will continue to wait for me so I rebooked onto a flight at 15:00 that same day. This left me stuck at the airport for a few hours, time for me to get out Guido Moosbrugger's book 'And Still They Fly!' for a little more studying. The flight went without problems and only took 1:15 minutes. Once in Luxembourg I met for the first time my two good friends and the wife of one of these friends. It was a good feeling knowing that I had arrived in Luxembourg after all the problems with flights and now nothing could stop me from getting to Switzerland. That evening was very relaxing and most of the conversation was about various aspects of FIGU and Eduard Meier. The next day, 19th May, we were up early and on the road to Switzerland. The weather was fine, not overly hot but no rain. The journey to Switzerland took around 5 hours, travelling through France to get to Switzerland. Deciding to go straight to FIGU, Semjase Silver Star Center before we checked into our hotel we arrived at around 12:30 – 13:00. At last. I was there!
At FIGU, Semjase Silver Star Center
19th May, At the car park, the entrance to the center the Semjase Silver Star Center logo attached to a large rock.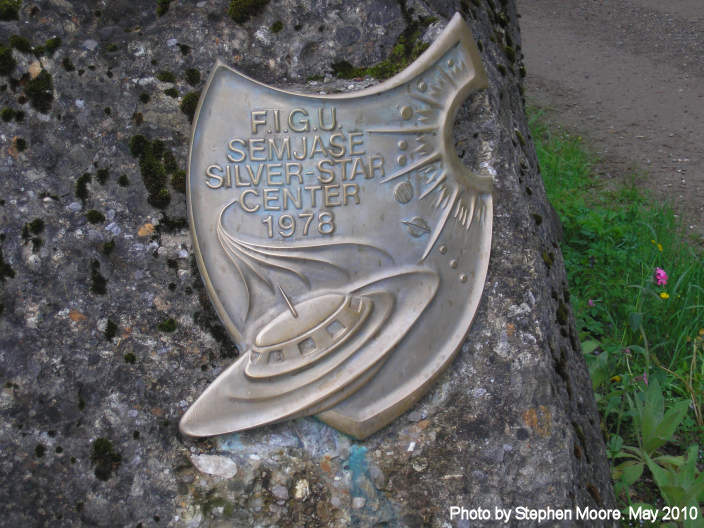 Walking down the stoned roadway to the center we saw a familiar FIGU Core group member pass us on a tractor. Once at the Semjase Silver Star Center building we continued into the kitchen. There I met 2 or 3 female core group members supplying lunch. The food was on the kitchen table, coffee, tea and other non alcoholic drinks. I was invited to have some food and a drink to which I made myself a coffee and sat outside at the front of the Center near Eduard's front door with the 3 persons I travelled with to the Center. My back was facing Eduard's front door and we were all talking and drinking coffee. It was very quiet with no one really at the Center. We had arrived 3 days before the Passive Members meeting which was to be held on Saturday, 22nd May. Atlantis Meier, Eduard's son popped out through the Center door and sat near us at another table. As 2 of us are smokers and there was no ash trays to be seen we asked Atlantis whether it was ok for us to smoke at the front of the Center. He stood up and rushed off inside only to reappear again with an ash tray. As I started to role my Cigarette my friend looked at me a nodded in the direction of Eduard's front door. I instantly had a thought "Eduard is behind me". I turned around and there he was, just standing there waiting for someone to bring something from a car into his house. I felt an inner excitement and I could not think of anything. It was like my consciousness and thinking and all that I had thought about, what I would say and do if I met Eduard was gone. A few seconds later, I looked around again and Eduard was approaching me with his hand out ready to shake my hand. He had a big smile on his face and looked very happy, happy to see me. I shook his hand and said "hello Eduard". He then turned to my friends who I had travelled there with and greeted them. I felt very happy to meet Eduard, in just a short time of being there. His grip on my hand was very firm and strong. He was in good shape and looked healthy. Eduard walked through the front of the Center door. After what seemed to be a minute or so he came back through the door and asked us about what languages we speak. I told him "Unfortunately, I only speak english, but I will be working on learning German so hopefully in a few months I will know German". That afternoon I was given the task of working in the Garden. Vegetables for use at the Center are grown in the garden. FIGU use all the Vegetables they grow, they do not sell anything. My task was to pull out weeds and moss that had grown over the soil. There was a lot of work to be done there. I have knowledge of weeds in England but the plants in Switzerland were foreign to me. Unsure of what was a weed and what was not I had to continually ask, at first, what needed to be removed. The patch I was working on was a Strawberry patch with Strawberry plants. The atmosphere was truly peaceful. Birds singing, the farm animals could be heard in the background and the occasional sound of a tractor. After a short break and a coffee my next task was to move away from the Strawberry patch onto another patch. This patch was very over grown with weeds and moss. I filled a bucket up with weeds and moss from that patch. Dirty work but it was important.
The Garden.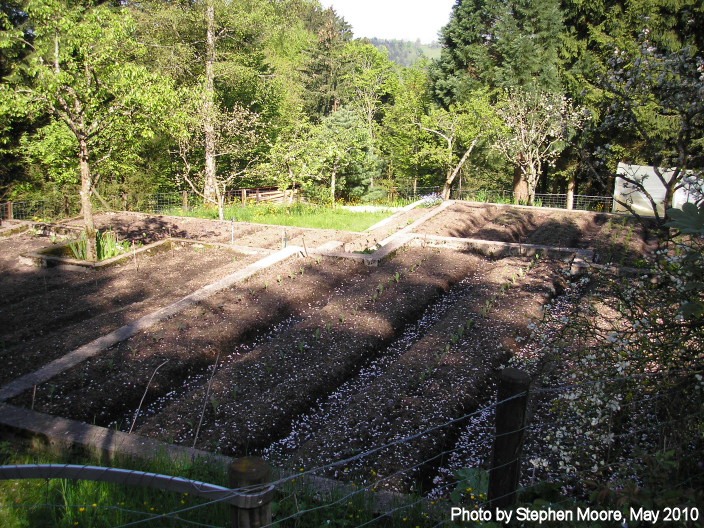 20th May, Arriving at the Center at around 10:00 I knew what my task was for this day, helping with cutting logs into smaller pieces, loading up the tractor trailer and then unloading at another location at the farm. Armed with my boots and gloves I set to work. Behind the Center was a field and to the right of the field were many logs of different shapes and sizes. Everyone who was there helped moving large logs into position to be cut and then loading the cut pieces of wood onto the tractor trailer. I was surprised to see during my time on the farm that the older ones there were working hard and did not let their age become an excuse to fall from their responsibilities.
The following photo is of the field, to the right are the logs. I found out later from a Core Group Member that Menara from Deron in the Wega-System landed in this field when she visited the Center.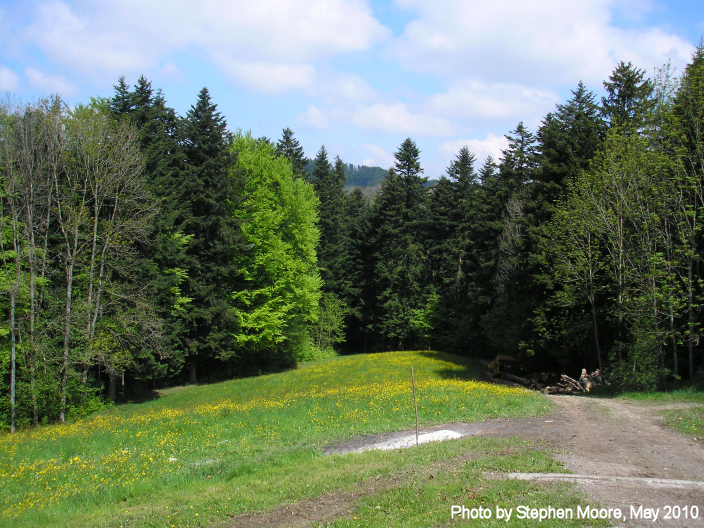 The work before lunch seemed to go very quickly, before I knew it it was lunch time, 12:30 till 13:30. Back into the kitchen the food was again on the table and persons, Core Group and Passive members, were sat around the table. I was invited to help myself to food and coffee. I ate outside at the front of the Center near Eduard's front door. During the lunch time break I saw Eduard walked past a window at the Center. Some time later during the Lunch time break Eduard came out from is front door, looking happy, he approached a Passive member who was sitting with us. They shook hands and had a brief conversation till Eduard walked back, put his hand up and smiled at us and left in a car with his partner. I also put my hand up and smiled at Eduard as he left us to walk to the car. Later that day myself and a few others were discussing whether Eduard went for a contact. Personally thinking, I think it is possible as I have heard from persons who have been there many years ago that when Eduard goes for a contact he gives a salute. I do not know for sure, whether he did go for a contact or not. I did not think it was appropriate to ask. Perhaps we will read about it in a future contact report or FIGU bulletin. During the afternoon I was helping unload the cut wood from the tractor trailer into long straight piles just past the car park of the farm. At some time during this, perhaps 2 hours after Eduard left, he returned with his partner in their car. Eduard looked very relaxed and was smiling. I was unable to see if Eduard or his partner removed anything from the car outside the house as I was to far away.
21st May, Working on the logs again today. Many persons were arriving at the center. Michael Horn, Official Media Representative for the Billy Meier Contact Case, arrived and I introduced myself. He was surprisingly a small man, but on the other hand I am a surprisingly a tall man. We shook hands and exchanged a brief few words as I was on my way to do some more work. Later Michael was helping with the logs and cut wood and was happily helping out on the farm. I never saw Eduard on this day. Today was a day of work just like the day before. Lunch was kindly provided for us and it was pleasant day. In the evening, after work had finished at 17:30 and a tidy up of the stone road way that leads into the Center, the tractor had placed lumps of mud on the road way and I was asked along with a few other to walk down the road and to remove any mud and other items from the road, I stayed for Dinner. A few familiar faces and some discussions. Everyone was calm and friendly and there were no bad thoughts, energies or issues.
22nd May, Today was the day of the Passive members meeting. As the wife of the friend I travelled to Switzerland with and myself were not Passive members I was not permitted to attend the meeting. The Center was a buzz with members hurrying around either looking for other persons or preparing to travel to the meeting. The morning before lunch we, friend's wife and myself, helped out in the garden again along with a female Core Group member. Time for planting seeds, green and yellow beans. At a guess I would say we must have planted about 200 -300 seeds. Once the seed planting was completed Eduard's partner asked whether we could water the plants in a long green house in the garden. We completed that task and then we had some time before lunch. A perfect time for photo taking. We both walked round the farm and Center taking photos of the animals and scenery. It really hit me how beautiful it was there, how peaceful and calm everything was. I was in paradise. After lunch we had some time to ourselves. I was in the Kitchen where I was just waiting and talking. Eduard was coming in and out of the kitchen. I did not approach him as I thought it would be more appropriate if I just left him alone and if he wanted to talk to me then he can do so. Well he did. He approached me and asked me whether I was called by another name. I replied "No, I am Stephen Moore, from England". Then Eduard looked into my eyes close to my face, smiling and said "That, I know already". It felt like my body was a wash with such neutral energy. I was in a kind of medative state. Also it was like Eduard was telling me he knows everything about me. Like it was a message to me or he projected his thoughts onto me and I had a feeling that Eduard knew me very well. A few minutes after Eduard sat in the kitchen, he asked what the weather was like in England. I explained that it was sunny with a bit of cloud. Later that day a passive member said to me that Eduard will know about me. He can find out about me, my level of evolution, my past and future and so on, even where my Spirit-form originated from. After my experience with Eduard in the kitchen I was feeling so relaxed and calm> It was a unique experience that I have not felt before when talking and being in the presence of another human being. Atlantis, my friends wife, another man and myself helped prepare for the BBQ, setting up tables and laying out chairs. As I was carrying some chairs outside and about 5 or 10 minutes after speaking with Eduard in the kitchen I saw him outside. He smiled at me with a knowing smile, like he was a friend and he was treating me as a friend. Eduard was also helping out a little. Just over looking how things were going. I had a few brief words with Eduard while preparing for the BBQ. I offered to help out in the kitchen, cutting sausages ready for the BBQ later that day. I was in the kitchen for some time and had a conversation with Atlantis about translations and the fact that the German language is the only language that can precisely explain everything, the problems with translating and that the translation of the book Goblet of Truth (Kelch der Wahrheit) is more of a sort of reference to what the book in German means. The BBQ went off well, I recognised many persons. I had many discussions with Core Group and Passive members about various aspects of the Spiritual Teaching, Overpopulation, Religious False Teaching and so on. It was a wonderful evening. Everyone seemed to enjoy themselves. Eduard did not appear during the BBQ. So I was lucky I had the opportunity during the day to speak and see Eduard.
23rd May, Today was our last time at the Center. After checking out at our hotel we travelled to the Center for one last visit. The Center was very peaceful and calm and persons were just relaxing and talking. We stayed for around 3 hours, said our thanks and good bye's. Before leaving I decided to become a Passive Member. It felt right to do. I had been thinking about it during my time there and had a good feeling about becoming a member. Also before leaving there was time for one last photo taking session. I found the tree where Eduard once shot a hole through with a Laser Pistol from a Plejaren woman named Alena. The tree is now dead and the part of the tree with the hole remains at the Center. The following photo is a close up of the remaining part of the tree and with the hole through it.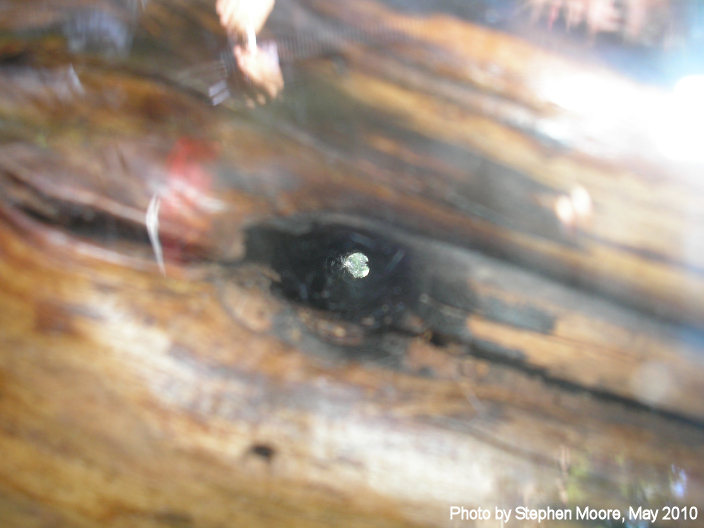 The following is what remains of the tree held in a glass enclosure.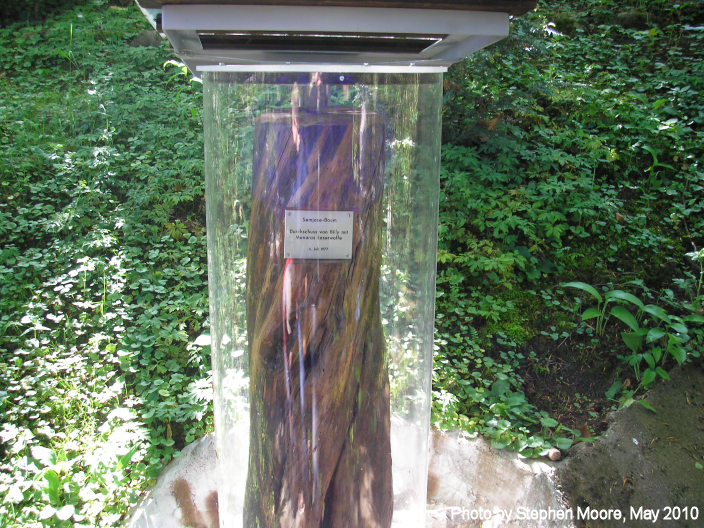 After Thoughts
During my time at FIGU, being around the members and Eduard I never once saw any thing that would make me think that FIGU is a cult what so ever. I never had a thought that FIGU was a cult before I visited and did not have a thought that FIGU is a cult afterwards. Eduard was not being worshipped, no one was bowing down to him, praying to him or treating him any different than anyone else. There are no songs to learn or a special building where persons go to pray or worship. There was no worship or belief in anything. As usual with cults there are many things that can be found, for example rituals, controlling laws, persons forcing you to join and a leader. This is not evident at FIGU. During my time there everyone was treated equally and also of equal value.
Being at the Center there is a overwhelming calmness and feeling of love and peace. I felt an overwhelming peace inside myself and the overwhelming knowledge which I had learnt during my own studying of the material was coming to the forefront of my thoughts and feelings. I was treated very well and there were no pressures, feeling of unease or any of the negative thoughts and feelings that arise when one is going about their daily life away from the Center.
Being at the Center, with the persons there and in the farm and surrounding areas, is beautiful. Paradise on Earth, a place in which one can experience what and how life should be across our planet. One can sense that being at FIGU. Semjase Silver Star Center you are living in a place and time which the future on Earth will be like. But we must all work hard to make the paradise on Earth a reality.
Life at the Center is hard work, where all persons help each other and help continue the mission. Nothing in life is easy and nothing is gained without hard work, responsibility, love and friendship. I myself am looking forward to my next visit to Switzerland, to meeting FIGU members and continuing my own self responsibility in helping the mission and creating a paradise on Earth.
I wish to thank everyone at the Center for making me feel welcome and for their patience and time.
Salome.