Semjase Silver Star Centre
From Future Of Mankind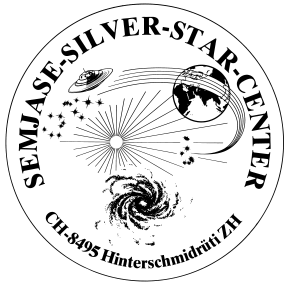 FIGU
SEMJASE SILVER STAR CENTRE
SWITZERLAND

Please note that Future Of Mankind is not an official FIGU website.
The information here about the SSSC is not official.
Contact with FIGU can be made via the FIGU website.
Contact with the owner of this site can be made via webmaster@futureofmankind.co.uk



---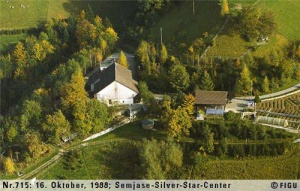 PRIVATE PROPERTY
It's not public land, it's a private residence, folks live there, trespassing is illegal. The right way to visit is the normal way, by day, say hello, introduce yourself, send them an email. [continue reading]
There's no need to be rude, folks are welcome and they're welcoming, but individuals have to be known to be on the property by introducing themselves, saying hello. See the section below about visiting.
If you see a video on the internet where a person has been walking or creeping around through the property unannounced and without notifying them that they were on the property, then it might be a good idea to mention in a comment to them that it's indeed private property. All the information is public and because of this on rare occasions folks get this idea in their head that they'll approach it like some spy or something and go there undetected and gather their own independent evidence or something. FIGU have always been happy to answer questions and there is a huge amount of information available spanning decades, there is no need to be rude. If you are part of a paranormal investigation team and want to explore the grounds at night, that is 'probably' going to be ok if you ask nicely, just be polite and arrange it with them before you arrive so they know who is there, don't do it without asking.

INTRODUCTION
The Semjase Silver Star Centre is in Switzerland... [continue reading]
...and is the world headquarters of the
FIGU
. It is constantly maintained and updated by its members and volunteers. In the early years (see
Photo Gallery
) there was construction work on various buildings of importance. Today (2018) it is a safe, lush and pleasant place to be.
FIGU
German: Freie Interessengemeinschaft für Grenz- und Geisteswissenschaften und Ufologiestudien.

English: Free Community of Interests for the Border and Spiritual Sciences and Ufological Studies.

FACILITIES AND FUNCTION
It is a place of learning, reading and relaxation. [continue reading]
The centre, with all its facilities and amenities, facilitates the learning and teaching of
creational laws
[1]
and
commandments
as well as the
spiritual teachings
. Folks from all over the world visit the centre and have for decades, to work, to learn, to communicate with like minded peers and to find rest, tranquillity and relaxation in the surrounding nature.

PUBLICATIONS AND IMAGES
The centre publishes its publication(s)[2] at irregular, sporadic intervals throughout the month and year on its website, in German, see External Links. This constitutes the reason why translations have to be prepared into other languages, which emerge some time later. [continue reading]

ENVIRONMENT
The centre is a lush, safe and healthy place to be. And not just because it's in Switzerland. [continue reading]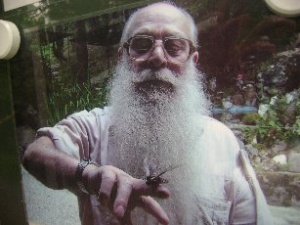 See FIGU - The centre maintenance and upkeep
and FIGU - Efforts to preserve the planet

Over time, the environment of the centre has been transformed into a small paradise of tranquillity, peace, contemplation and beauty. Due to this long term careful management of the environment compared to the surrounding farmlands and towns, where restraint has been exercised from using petrol machinery and chemicals where possible and tending the gardens by hand; a variety of particularly rare species of animal, insect and plant have made the grounds their home. Forget Ufology for a moment and for naturalists, botanists, bird watchers, biologists, and anyone who appreciates wildlife and nature it may even be shocking to some visitors to see such rare varieties and in such health perhaps never seen before because such good care is taken of the life on the grounds where there is a culture of matured wisdom about ecological systems and natural cycles and natural rhythms and the humans impact on life and of a deep appreciation of life, preserving life, cherishing it and allowing it to flourish - mostly lead and influenced by
Billy
and his attitudes.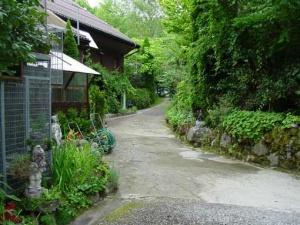 VISITING AND VOLUNTEERING
Individuals visit the centre from all over the world. [continue reading]
See FIGU - Freedom of decicision making
and FLCA - Visiting SSSC (External)

Visiting, volunteering and all other enquiries such as camping in a tent in the designated camping area is all arranged directly and personally with them through their website, by phone and email. There are certain visiting times during the day which are different on a Sunday, available on their website. They prefer to communicate in the German language even if these speaking abilities are still basic because it is the language spoken by them and in this country, Switzerland. However communication in English and other languages is possible with many individuals who are bilingual or multilingual. Giving plenty of notice of plans to visit is appreciated as indicated on their website and because it allows them to plan their own visits and own schedules. There is an 'English language FIGU Forum' section dedicated to Visiting the Semjase Silver Star Centre which is archived back to late 1999 if you wanted more information or have questions, they've all probably been answered already by now.
See FIGU - Acknowledging everyone's equality
and UFO Facts - Human to human values (External)
and FIGU - Prepared to answer and discuss questions
It is possible to eat a meal at the centre, prices and conditions as well as arranging it, all occurs with them, details may be on their website and by contacting them and check because it may have to be confirmed in advance of arrival.
Lodging is not possible at the SSSC. Volunteers who have arranged everything with them, stay in tents. There are two designated camping areas, one up the hill and one down the hill, both offer a reasonable area in which to pitch a small tent. Visitors tend to make lengthy preparations before setting off and before arriving, despite this not necessarily having to occur, see next section. But it is wise to make preparations; lodging and accommodation for the stay nearby tends to be at the nearby local hostel, lodge and inn, however there are hotels, motels and even resorts further afield available with some extra travelling. If you are staying in a tent it is recommended whatever time of the year to check there are not holes in the ground sheet as the ground may become wet, footwear that can tolerate wet, to have a warm sleeping bag and additional cloths to replace wet ones if necessary, see some general camping website. There is a well kept and premium designated block, which was kindly donated by a fellow camper some years ago, with toilet, shower and wash room with a coin operated hot water boiler, behind the SSSC for those guests. There are many rules to adhere to while at the SSSC, such as about tidying up after yourself and keeping things neat, tidy and clean, as you go, on their website. Staying in a tent at the SSSC is not like any of the above mentioned accommodation options, there is no housekeeper or no cleaner for you, it comes with its own heir of responsibility and duties to take on, and because there are others sharing the space, and it is nice for other visitors to receive the same pleasant environment as you received.
Also see FIGU - Privacy policy
and FIGU - Volunteer Application Form English (External)

SORRY
Refrain from saying 'sorry', instead say 'pardon', 'excuse me' etc., because some persons think 'sorry' represents an apology in the English language, when 'sorry' may simply represent a charming, polite, non-vocal way of saying: 'get out of my way now', 'you're in my way', 'time to move on', 'do it this way now', 'you've created a situation here where I have to suffer with you, don't make me suffer with you', 'let's try that again a different way should we and now', 'lets reassess our relationship and what we are doing together', 'you've misunderstood something, and I am giving you time to get it right' etc. For this reason when you do have to apologise for something, whatever that may be, do it genuinely, take the time to make sure the person is listening, speak calmly, softly and directly, make eye contact with them and that they recognise that you have recognised that wrong has been done, express regret, make it heartfelt, keep it refreshing and sincere, make sure they feel it and connect with them properly - so that any bilingual/multilingual speakers are able then to differentiate between an actual apology and a word being constantly used. You might try not saying anything at all instead of 'pardon', 'excuse me', 'sorry' etc., if you want. There are several other ways to exert your influence and make demands of others. Silence is often as good as, manners, pleasantry, being polite etc., listening alone can sometimes be more effective with bilingual/multilingual speakers than any respectful and considerate words, try silence and non-vocal communication, which may simply amount to using the facial muscles more, body-language, signals etc.
NO OBLIGATION TO STAY
It's nice when a plan is made and it is followed through to completion. But they're some of the most opinionated individuals in the entire world and in all recorded history, based on their written material. If you don't want to stay for whatever reason that may be, you don't have to, there's no obligation. Sometimes folks just don't gel and get along with one another for whatever reason, that is fine and fair, don't be rude about it, say goodbye and leave. You probably should not endeavour to visit until you have read a quantity of their written material, conversed over the internet, developed an appreciation and understanding of what they're doing there and know what to expect etc. Try not to allow yourself to be pushed away by one faulty social exchange, it may have been a visitor they themselves have been troubled by; on the whole they're very nice and good folks, try to give it some time and patience.

GETTING THERE AND WHEN
Using a search engine to plan routes and transportation or a satnav are the usual methods used for getting there today. [continue reading]
See FLCA - SSSC House Rules (PDF) (External)
and FIGU - We too are only human

The best time of year to visit is during the summer months for the weather. Summer is opposite months to southern hemisphere winter. If you're fortunate enough to experience some ascending air leading to low pressure at the surface, the warmth may allow for a t-shirt in May, June, July, August, but pack a light weight rain jacket and jumper for the occasional shower and for sunrise / early morning / night. Weather, temperature and climate in this area of Switzerland is similar to parts and areas of United Kingdom, Washington State, New Zealand and Japan's climate, its temperate, moderate with no excessive heat and it is moderated by the nearby mountain range. Switzerland's fauna and flora is similar to a fairly broad area of Europe's and the United Kingdom's, with a rare poisonous European adder snake and rare European hornet wasp/insect and a few other minor insect and animal dangers to be aware of, harmless if not disturbed. Some visitors may not have known they have hay fever (Pollen Allergy) until they arrive but symptoms are mild and tolerable. In case you thought it was entirely risk free, it pretty well is but have a short awareness research before you arrive if you've never been to Europe or the climate. But for most it will amount to common sense. It is a safe, civilised, lush and pleasant place to visit, especially during the summer months.

Non-profit organization in Turbenthal, Switzerland.
Opening times:
Check google.
Sunday - 9:00 am to 18:00 pm
The address:
Hinterschmidrüti 1225, 8495 Schmidrüti, Switzerland.
Phone number:
+41 52 385 13 10 (Switzerland landline number. Please call during the opening times unless asked otherwise, in an email for example. The line automatically blocks withheld numbers because of historic abuses of the line, so use another phone if its been set to withhold the caller id automatically - there is a translation available about why at creationaltruth.org - telephone terror)
And email:
info@figu.org / info@figu.org
See FIGU - What has brought and continues to bring us together

There are roads, buses, trams, trains, aircraft, ferries, all over Europe. It's usually possible to find someone who will speak English or another non-local language with you if you get lost and even if they can't speak lots with you, they are often friendly enough to entertain attempting to. It is possible to take public transport up to a short walking distance of the centre from anywhere in the world without any or little prior transport planning or lengthy schedule preparations, if you are brave and relaxed enough, however check the schedule if it is a Sunday because times may vary slightly compared to the rest of the weeks schedule. A confirmation of arrival from the centre is courteous and respectful, if you intend to enter the grounds, and greeting someone on arrival to let them know you've arrived is polite and right.
Sign up for the European Health Insurance Card if from Europe and check the T&C's for your specific country as you may need additional cover, if your arriving from outside Europe you'll need to buy health insurance cover; if you want to volunteer at the centre and show it to them, which is usually comparatively reasonably priced. Emergency phone numbers in Switzerland are 144 for Ambulance, 117 for Police, 118 for Fire and 1414 1415 for air rescue from a mountain. It might be worth knowing that Switzerland is neither an EU nor EEA member but is part of the single market, for when you pass through customs and excise/import and export.
The main thing to be aware of for many visitors may be the economic differences and value of money there. Check with a current and up to date cost of living comparison website before going.
Switzerland has its own customs, traditions, policies, laws, standards etc. like all countries do. It is clever, as well as respectful to develop some level of awareness of them before going, as it would be for any nation you might visit.
Visiting from other areas of the world can be quite an undertaking, but such a trip is well endorsed, because it helps open up the world. English is probably going to be available throughout the trip as the lingua franca. Special arrangements and exceptions can be made with the centre, when personally arranging it with them, if the travel is long and therefore arrival is due to be out of hours. And support, supportive stories, confidence and reassurance from those who have been, gone and done it all before you is often available from the groups around the world and can be sought over the facebook groups.
See Visit to FIGU - May 2010
or UFO Facts - My Visit to FIGU Switzerland 17th to 24th May 2010 by Stephen Moore (External)

Switzerland has its own version of hostelling international https://www.youthhostel.ch/en/ It has something of equivalence to the local 'bed & breakfast' accommodation style model. And has things that are tantamount to the tavern, pub, bar, buffet, restaurants, eateries and gastropubs. It has small, medium, large shops and supermarkets as well as regular markets and all the other types of thing listed elsewhere.
Also see FIGU - Mistakes as sources of learning
and UFO Facts - Standardizing, Stereotyping of the Human Being by Stephen Moore (External)

PHILOSOPHY, ADVICE & EXOTIC
Associated with FIGU - Talkativeness and performing missionary work
and FIGU - How do we differ from a religion or a sect

Use the instructional material entrusted to you by the FIGU as well as all other writings primarily to learn for yourself, for self education / adult learning. [continue reading]
For your own protection, for the protection of the truth, and to prevent abuse being done with the content of our writings. Never let yourself be tempted, be it out of sheer enthusiasm for the truth or out of urgency, etc., to propagate or proselytize doctrine in order to win over or convince other people. You can do great harm to yourself and others.
The study of spiritual issues is has always been associated with a process of consciousness. Every human being must be willing to deal with the truth in his own right, and he should also have the opportunity to develop this readiness for himself. When, how and at what speed this is done is always at your own discretion. Nobody can exert any pressure or coercion on the thinking, the feeling and the freedom of the fellow human beings, who are self-determining in their way of going, without them being injured - no matter whether it is about strangers, acquaintances, friends, relatives, the spouse, or child. Your neighbour should be respected and not overwhelmed or be tamed with knowledge or your own findings, which he may not yet understand or is not yet willing to understand.
However, all this does not mean that a secret should be made from the study of the Spirit Teaching or the fellow man be given the feeling that he is not yet ready to grasp this or that; such a behavior would correspond not only to an unjustified self-exaltation, but also to a disrespect and neglectfulness towards one's neighbor. Likewise, one should always keep in mind that one is not omniscient and that one's own understanding of spiritual teaching is always more or less limited. So every human being is always critical of himself and does not talk unnecessarily about those things of the doctrine that are not properly understood.

See UFO Facts - A Word From Stephen Moore (External)
and UFO Facts - Human beings who attack others by Stephen Moore (External)


Have compassion for folks but don't suffer with them. You're encouraged not to hurt yourself over the authenticity of the story and its proofs, to keep your thoughts cooled and calmed about it all and not to get talkative in an attempt to convince anyone about what you have discovered and to chillout.

TRIVIA
Many of the beamship photos were taken at this location and nearby locations. [continue reading]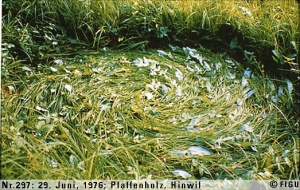 There are many interesting facts about and events related to the Semjase Silver Star Centre, too many to list here, contained inside and throughout the Contact Reports.[citations needed]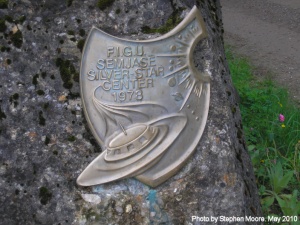 SSSC is the abbreviation for 'Semjase Silver Star Center'. Center is the correct spelling in German and American English, but British English writers usually prefer centre. Center (and centre) can be a noun, adjective, or a verb. The German noun for silver is silber. Semjases name is in their title.
Switzerland is comprised of cantons instead of counties or states. There are 26 cantons squeezed into the small landlocked country, divided between the Alps, the Swiss Plateau, and the Jura. It's surrounded by five countries: Austria, France, Germany, Italy, and Liechtenstein. It has about 8 million citizens and they are mostly concentrated in the plateau. The Swiss motto is "Unus pro omnibus, omnes pro uno" or "One for all, all for one."
Switzerland has 208 mountains over 3,000 metres high. On a clear day the alps can be seen on the horizon at the SSSC from on top of the hill.
The position of the Semjase Silver Star Centre, in ancient times, about 21,000 years ago, stands roughly where the Sanura lakes system was, the shores of which, lived the 40 cm [16"] (approximately) tall, dwarf beings human race.[3]
There's a picture of SSSC from the other side of the valley on the front of Books#Direktiven
Switzerland itself is home to around 450 varieties of cheese. Only about 2% of the wine produced in Switzerland ever leaves the country, and they produce about 200 million litres of it annually. In 2015 the average Swiss drank 56.5 litres of beer and 36 litres of wine. Between the 18 Swiss chocolate companies, 172,376 tons of chocolate were made in 2012. The Swiss consume about 10kg of chocolate annually.
Switzerland has for centuries been a neutral state, which means that it cannot take part in armed conflict unless it is attacked. Its forces can only be used for self-defence and internal security. It joined the United Nations only in 2002. Surrounded by the European Union, it has vacillated between seeking closer engagement with its powerful neighbour and other international organisations, and preferring a more isolationist course.
The people are given a direct say in their own affairs under Switzerland's system of direct democracy, which has no parallel in any other country. They are invited to the polls several times a year to vote in national or regional referendums and people's initiatives.
The Swiss really know something about writing. The neutral and convenient widely used sans-serif typeface font Helvetica, originates from Switzerland.
The Swiss couples tend to marry later than many other nations do, at about the average 30. It does however have the highest percentage of people over 100 in Europe. In 2012, it had the second highest life expectancy after Japan. This extended lifetime is probably affected by the cleanliness of the air, the abundance of walking trails, and the availability of high-quality health care and food.
According to official national statistics the country Switzerland is composed of 23% foreigners, which is a reasonably high percentage, but it is somewhat centrally located Europe. The statistic is rough enough to count the individual foreign visitors from the Plejaren Federation. Because Switzerland has such a diverse population, it has four declared national languages: German (64%), French (20.4%), Italian (6.5%), and Romansh (1%).
When Calvinists banned jewellery in 1541, goldsmiths and jewellers in Geneva brainstormed the invention of wrist watches. Since then it's been one of the most successful industries of the country, fourth largest exporter. The Red Cross, a 97 million person volunteer programme was founded in 1863 in Geneva, Switzerland where its headquarters remains.
Switzerland is unusual in having a collective head of state, the seven-member Federal Council, which doubles up as the country's cabinet. The council was set up by the constitution of 1848, which is still in force today. Members are elected for four-year terms by a joint session of both houses of parliament, although in practice changes in membership are rare, making the Federal Council one of the world's most stable governments. The election of a new female minister to the Federal Council in September 2010 gave the cabinet a majority of women for the first time in the country's history. Each year, by tradition, a different member of the council fills the largely ceremonial post of federal president on a rotating basis. The office does not confer the status of head of state, which is held jointly by all the councillors.
The average wealth of just 150 Swiss residents (avg. $500,000 per adult 2018), a small village, is enough were it combined to have independently funded one of the missions of ISRO, the Indian Space Programme ($74 million 2018).
Switzerland is one of the most expensive countries in the world to visit. Over the past 15 years (2018), the Swiss franc has increased in value substantially against both the US dollar and the euro. The SSSC receive many international visitors and are not entirely in denial about it, they try to keep the costs down for visitors as far as reasonably possible, to the extent where it's now far cheaper to eat at the SSSC compared to the nearby areas. Despite this, the strength of the Swiss franc is so astronomically high that even a modest meal at the SSSC may cost as much as a gourmet one if from the rest of Europe and North America. FIGU#FIGU Statutes Article 2 section 6, Where the prices are for example 200% higher for visitors from China and 450% higher than India for example, FIGU may on certain occasions, for the right individual under specific circumstances, offer a lower cost of eating at the centre, if say the individual is staying for many days, but this has to be negotiated with them prior to arrival and one must know that it's generous, out of the kindness of their hearts and not necessarily a guaranteed situation.
The books they sell too seem expensive compared to the other advanced developed industrialised nations, but compared to the average cost of a book in Switzerland, FIGU offer great value, but because of the content that's actually in the book, most see it as the normal rate and would even pay more if they could.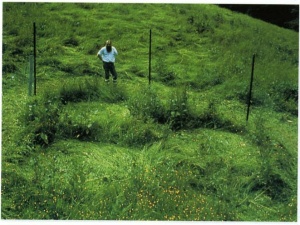 SSSC and Mehrauli, Delhi, India, are both in a flight path to an airport. SSSC is in the flight path to one of the runways of Zurich International Airport, Zürich-Flughafen also known as Kloten Airport. Which means that the commercial aeroplanes as they make their runway approach or take offs, to or from far off lands, fly in lower and above the centre, and can be heard and seen throughout the day and night there. The situation presumably has come about relatively recently i.e in the last decade or so, with the increased capacity, broader use of air travel as a means of transportation and rise in the worlds human population. The situation worldwide with air travel will theoretically only get much busier and noisier until some time in the future where we're in a position to roll out our own anti-gravity means of flight, like a Beamship flies, silently.

In Contact Report 260 Billy asks Ptaah how the SSSC was purchased at such an equitable price and describes the fate of it all.
Billy: I knew the village of Schmidrüti and the farm Hinterschmidrüti as well as Sitzberg, Wila, Turbenthal, and actually all of Tösstal since my early youth, and indeed, starting from the third year of my life. My mother is, indeed, a native of Ägetswil in Wila; consequently, I was already often in Tösstal with my mother and father during my childhood, when we visited my mother's sister and so on. By the way, at that time, the roads weren't paved yet, and the railroad still ran the coal locomotive. Then later, in adulthood, when I already had a family, I returned to Tösstal and to Schmidrüti and Hinterschmidrüti as a sales representative. And then, when I gave up my job as a night watchman in 1974, which I had received after a construction phase, on that occasion, I became acquainted with Jacobus, and I successfully operated as a healer in Hinwil, and then, Mrs. Herzog came to me in 1975 from Root, Switzerland, in order to receive treatment from me. She then told me that she and her husband owned a farm in Tösstal, and indeed, Hinterschmidrüti in Schmidrüti. Then, it suddenly fell to me, like scales from the eyes, that yes, Sfath and Asket had previously said that I would establish a "Free Community of Interests" and would then purchase the farm Hinterschmidrüti with the members, in order to build a center for the mission from that. Suddenly, I also saw all the pictures again that one had shown me as to how the center would eventually look. The result was that I then immediately brought into being the "Free Community of Interests" at Wihaldenstrasse 10 in Hinwil, after which everything then arose in such a way as one predicted to me. Now the question about this, and indeed, a question from our group: did you have your fingers in play with Mrs. Herzog's appearing to me in Hinwil? I mean, did you influence Mrs. Herzog in this regard and then also later with the purchase price?

Ptaah:
101. Sooner or later, this question, indeed, had to be asked:
102. Yes, we had our fingers in play, as you call it
103. It was already planned since ancient times that things would arise in such a way as they have arisen and are today.


104. However, no compulsions were exercised; rather, only impulses were sent to the persons concerned, according to which they then acted and according to their own will.
Switzerland Chronology Of Recent History Timeline
1815 - In the wake of the Napoleonic wars, the borders of Switzerland - and the territory's neutrality - are established at the Congress of Vienna.
1848 - Federal constitution defines the political system, providing for a centralised government.
1874 - Revised constitution allows for the exercise of direct democracy by referendum.
1914-18 - Switzerland organises Red Cross units during World War I.
1919-20 - Treaty of Versailles reaffirms Swiss neutrality.
1920 - Joins League of Nations. League's headquarters established in Geneva.
1923 - Customs union with Liechtenstein.
1939-45 - Federal Council issues a declaration of neutrality at start of World War II. Refuses to join United Nations.
1959 - Founder-member of European Free Trade Association (Efta).
1963 - Joins Council of Europe.
1967 - Right-wing groups campaign to restrict entry of foreign workers.
1971 - Women granted right to vote in federal elections.
1979 - After referendum, French-speaking part of Bern becomes separate canton of Jura.
1985 - Referendum guarantees women legal equality with men within marriage.
1986 - Referendum opposes UN membership by three to one. Immigrant numbers restricted.
1992 - Switzerland joins World Bank and International Monetary Fund (IMF) but December referendum rejects membership of European Economic Area - a free-trade zone.
1994 - Referendum approves law making racial discrimination and denial of Nazi Holocaust illegal. Laws tightened against drugs traffickers and illegal immigrants.
1995 - Swiss Banking Association announces - after pressure from Jewish groups - it has uncovered dormant pre-1945 bank accounts containing millions of dollars.
1998 August - Swiss banks agree $1.25bn compensation deal with Holocaust survivors and families.
1999 October - General election strengthens right-wing vote. The People's Party (SVP), led by Christoph Blocher, becomes second strongest political force in the country with nearly a quarter of the vote.
2001 March - Voters reject moves to open talks on joining the European Union.
2001 June - Swiss vote narrowly in favour of allowing their soldiers to carry weapons during peacekeeping missions abroad.
2001 September - Parliament votes overwhelmingly in favour of United Nations membership, paving the way for a referendum on the issue.
2001 October - Eleven die as huge fire breaks out after crash in Gotthard tunnel.
2001 December - Voters reject proposal to scrap the army.
2002 January - Bankrupt national carrier Swissair relaunched as Swiss.
2002 March - A narrow majority of Swiss vote in favour of joining the United Nations in a referendum.
2002 June - Swiss people vote in referendum to decriminalise abortion which will be allowed in first 12 weeks of pregnancy. A proposal which would have tightened the already strict abortion law is rejected in a separate referendum.
2002 September - Switzerland formally becomes a member of the UN.
2002 November - By narrowest of margins, referendum rejects drastic tightening of asylum laws.
2003 May - Nine different issues put to referendum. Swiss vote against abolition of nuclear power, new proposals on rights for the disabled and the introduction of car-free Sundays but in favour of army cuts and changes to civil defence.
2003 October - The right-wing Swiss People's Party (SVP) becomes the biggest force in parliament after winning almost 28% of the vote in general elections.
2003 December - Parliament agrees to grant right-wing Swiss People's Party second post in seven-seat government at the expense of the Christian Democrats, altering the "magic formula" which had brought stability to Swiss politics since 1959.
2004 May - Agreement signed with EU on taxing accounts held in Swiss banks by EU taxpayers.
2004 September - Voters in a referendum reject moves to relax strict naturalisation laws. The result is seen as a victory for the right-wing.
2004 November - Referendum votes in favour of allowing scientific research using stem cells taken from human embryos.
2005 June - Voters in referendum support joining EU Schengen and Dublin agreements and extending rights for same-sex couples.
2005 September - Referendum vote goes in favour of opening job market to workers from the 10 newest European Union countries.
2005 November - Referendum backs five-year ban on use of genetically modified crops.
2006 September - Voters in a national referendum back plans to make their asylum laws among the toughest in the West.
2007 January-May - Ex-directors of Swissair, which collapsed in 2001, are in the dock in Switzerland's biggest corporate trial. They are all cleared.
2007 September - Row over Swiss People's Party's kick out the black sheep poster aimed at deporting foreigners who commit crimes.
2007 October - Elections. Swiss People's Party (SVP) boosts its standing as the biggest group in parliament, scooping nearly 29% of the vote.
2007 December - Swiss People's Party (SVP) quits the governing coalition after one of its leaders, Christoph Blocher, is forced from his cabinet seat.
2008 June - Voters reject referendum initiative to limit naturalisation of foreigners by allowing Swiss communes to vote on individual cases.
2008 October - Libya cancels all oil deliveries to Switzerland and withdraws assets worth billions of dollars from Swiss banks in response to the arrest of leader Muammar Gaddafi's son, Hannibal. Mr Gaddafi and his wife were detained for assault but the charges were later dropped.
2008 December - Swiss People's Party (SVP) rejoins the governing coalition with the election of party member Ueli Maurer to the Federal Council.
2009 January - Swiss economy officially goes into recession.
2009 March - Switzerland's government announces it will relax its rules on banking secrecy to allow Swiss financial institutions to co-operate with international investigations into tax evasion.
2009 September - Swiss economy returns to growth.
2009 November - Swiss voters approve referendum initiative banning the construction of minarets.
2010 September - Election of fourth female minister to seven-member Federal Council gives Swiss cabinet majority of women for first time ever.
2010 November - Swiss voters approve referendum initiative on automatically deporting foreigners who have committed serious crimes.
2011 February - Voters in a referendum reject plans for tighter gun controls.
2011 May - In the wake of the crisis at Japan's Fukushima nuclear plant, Switzerland becomes the first country in Europe to announce plans to phase out nuclear power.
2011 September - The government announces that the Swiss franc is to be pegged to the euro, after Swiss manufacturers warn that the currency's strength is making Swiss exports uncompetitive and risks tipping the country back into recession.
2011 October - Right-wing Swiss People's Party loses ground in parliamentary elections, but remains the largest party.
2012 April - The government re-imposes immigration quotas on workers from central and eastern European Union countries, through a "safeguard clause" in its agreement with the EU on freedom of movement. The EU criticises the decision.
2012 November - The Ecopop environmentalist group collects enough signatures to force a national referendum to cap annual population growth at 0.2%, by drastically restricting immigration.
2013 June - Lower house of parliament refuses to debate bill to allow banks to pass client information to US tax authorities in pursuit of American tax evaders. US has threatened to deny Swiss banks access to dollar markets unless the country complies.
2013 September - Voters reject a proposal to scrap military conscription.
2014 February - A Swiss People's Party proposal to bring back strict quotas for immigration from European Union countries is narrowly passed in a national referendum, invalidating a Swiss-EU agreement on freedom of movement.
2014 November - Voters reject a proposal backed by the environmentalist pressure group Ecopop for net immigration to be limited to a maximum of 0.2% of the population.
2015 January - The Swiss National Bank responds to the steep depreciation of the euro during 2014 by abruptly terminating the pegging of the franc to the euro introduced in 2011. The move causes the franc to soar and prompts warnings of serious damage to Switzerland's struggling tourism and export sectors.
2016 June - Voters in a referendum reject a proposal to introduce an unconditional basic income.
2017 February - A measure to make it easier for third generation immigrants to become citizens is approved in a referendum.
2017 May - Voters in a referendum approve plans to phase out nuclear energy.
2018 March - Voters in a referendum reject a proposal to abolish the mandatory licence fee for public broadcasting.

Q&A INFORMAL
[continue reading]
Q: How much work is there to do in Switzerland?
A: They're at the stage now nationally where they make stuff up to do, so that they have some work to do. See CERN.
Q: Over the next thousand years, part of humanity will go off and colonise Mars and a short time after that later a world in another star system, according to Contact Report 251 - what over this same duration will occur if anything or change, in Switzerland, and specifically the "SSSC"?
A: In about 600 years the tenants who reside there at that time will likely replace the facade cladding that is currently on the outside of the building. There will be some extra buildings on the hill and hill behind by that time. Unfortunately the religious people's book and library burning' history reset ceremonies, which take place every hundred years or so, will mean the persons alive at that time, won't have any idea of what life was like for us today in our time now which for them will be the past. Just as we don't know much of anything at all about our past because of those same religious nuts that are protected by their close alliances with governments.
Q: Why doesn't Schmidrüti have a stand up comedy stage now?
A: It is a matter of supply and demand, the nearest stand up comedy stage is in Zurich and might not be in English either. However it is true that there has been all sorts of loud collective laughter at the SSSC at times.
Q: How many achievements at FIGU are their own?
A: Very few. The SSSC doesn't have any oil refineries on site, there is no quarry, no factory, smeltery, and there isn't any production lines either, no printing press, no mail van depots and no debating chambers, banks, tarmac laying machines etc. They also are not responsible for the growing of the trees, grass, flowers or fruit at the centre, the sun is. A sizeable proportion of the labour on site has been conducted by temporary volunteer visitors and other helpers. They are unable to claim responsibility for the topographical features either, though some top soil has been rearranged by them during the habitation of the area, because the hills were a result of the African and European tectonic plates bumping up against one another about 22 to 34 million years ago. They're not even responsible for most of the literary content they have others publish because it's given to them by Plejaren. They're not even in a position much of the time to investigate the information that is published by them because Plejaren have given it to them and they have not worked to attain this knowledge, Plejaren personel have, so in many cases are not even in a position to be able to fully explain what they've explained, though they explain what they explain well. When everything has been proportioned correctly, there are however some real and good achievements there.
Q: Is it right for a president of America to say Europe has some cities with no-go areas?
A: There are ways to go about saying and doing things. If something is true then it's usually right to make it known. It may even be responsible to do so. FIGU Zeitzeichen is the publication which includes contemporary excerpts from the changing world, commentary which FIGU doesn't necessarily agree with, highlighting voices which are not always heard and may be historically significant, or not etc. There isn't FIGU commentary on potentially dangerous areas of Europe for travelers that we know of. However FIGU generally doesn't have a record of politic correctness nor of false-humanism for that matter, they've been known to just state things the way they are. There may be excerpts which tackle the subject indirectly in the Prophecies and Predictions. An opinion exists generally, outside of FIGU, that there are areas of certain European cities which travelers should be wary of, and exercise caution if roaming, because they say, these areas don't fit the overall European safety records and stereotypes. The SSSC however and the entire region of Switzerland that it's nestled in, within a sort of alcove of the Alps, does conform to the European safety stereotype and generalised safety belief, it is safe. Europe is really rather safe, the statistics don't deceive. Where for example your making your way to a FIGU Landesgruppe or Interessengruppe, it may become necessary to check such a situation however. If your route passes through certain cities and certain notorious neighbourhoods with them etc. The safety reputation of Europe is not a given and can't be guaranteed across the board. It is a real and true fact that millions of migrants and refugees have entered Europe in the last decade and roam, and a proportion of them are theoretically potential terrorists biding their time. Europe on the whole has experienced a number of gruesome terrorist incidents and there is a possibility, like anywhere which has seen such incidents, you may get caught up in it. But it's already common knowledge however that the flight itself holds its own risks, risks that themselves are higher than were you to just freely explore Europe happily, an average road statistically is more dangerous.
External Links
References
[show/hide]